Member Event - Understanding Money
What to invest into, why and how
Featuring speakers on business, financial planning, banking, precious metals and cryptocurrency.
Youth aged 13-17 admitted free with a paid adult
Date/Time:
2018-06-02 08:00:00 - 2018-06-02 16:00:00 (QLD Time)
Venue:
Brisbane Convention & Exhibition Centre, Southbank
Ticket Cost:
$$100 adults / kids free with paid adult
Member Development Day
Save the date!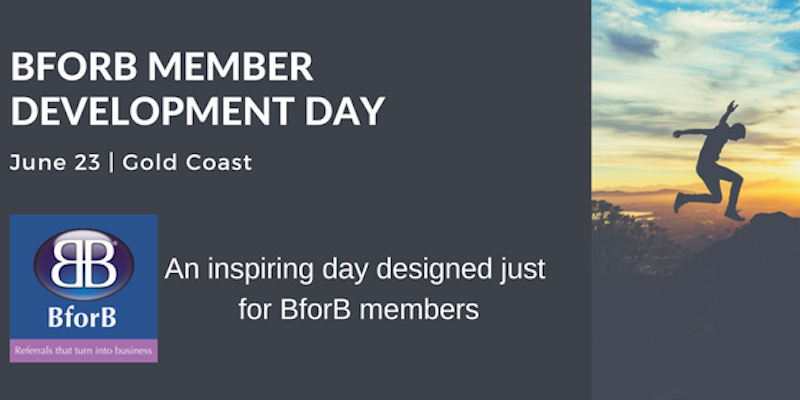 BforB Member Development Day
Saturday June 23rd 2018, Gold Coast
As promised, we have made the Member Development Day (MDD) a permanent part of the BforB Calendar and the next one for 2018 will run June 23rd, on the Gold Coast.
Meet experts and influencers face to face, in a day
curated exclusively for BforB Members.
You are definitely going to be inspired by a truly diverse program of talented experts!
Phillip Di Bella
Icon | Entrepreneur | Confidence
Since establishing Di Bella Coffee, Phillip and the company have been recognised by an array of prestigious awards. His success has earned him a place in BRW's Young Rich List for four years running, and his entrepreneurship has been celebrated on several occasions. He's an active member of the community and is fiercely proud of his Brisbane hometown. Phillip is incredibly passionate about inspiring passion in others and you will want hear his story!

Tracey Mathers
Clarity | Connection | Confidence
Tracey has been helping her clients for decades with advice on how to get the best from their lives and to make the most of their careers. She loves to see people succeed, and it gives her incredible satisfaction to know she has been a part of helping them achieve their goals. With incredible honesty and great communication skills she will help you to discover what has been holding you back. Tracey is like a locksmith and she holds the combination that will release the information that you have locked up tight inside.
Tofe Evans
Thought Leader | Endurance Athlete | Limit Pusher
As a firm believer of pushing the boundaries of what human body and mind is capable of, Tofe Evans is constantly reinventing himself to advocate how anyone can rise above and be the best versions of themselves. The journey Tofe has been on these past few years have not only shaped his character but his endurance career literally saved his life. Brace yourself because you're about to embark a wild ride - a culmination of despair, mental health struggles, hardships, endurance, and more importantly resilience. Mindset is everything.
What our members say about Member Development Day:
"Fantastic value add to my BforB membership, the new Member Development Days are full of professional keynote speakers. Whatever your industry, whatever your size of your business they have you covered.
The day is though provoking and inspiring to listen to successful people unfold the possibilities for you."

"If you are a BforB member, do yourself a favour and get yourself to the Quarterly Member Development Days! They are inspiring and will motivate you... plus they're included in your membership!"

"Another amazing BforB development Day and again the speakers were of international standard. I've taken away so much practical advice to get busy implementing in my business. Can't wait for the next one!"
Member Development Day is about taking time to invest in yourself, learn from an amazing program of speakers and having the opportunity to network with new people, all of which can spark us to new approaches that will grow your businesses.
There's nothing like being in a room of like-minded people. Other people who are willing to take time away to learn something new. Other people who want to "better" themselves and their business.
What You Need To Know
The BforB Member Development Day is FREE for BforB Members.
Up to 2 people per member business may attend for free. Any additional attendees from your business are welcome, but must purchase a ticket.
Each person attending must have their own details registered.
BUT you must register to confirm your attendance before June 21st, 2018.
Registration on the day will open from 8.30am; program commences 9.00am sharp.
The program will wrap by 3.45pm, followed by networking over drinks at the cash bar.
Book in through your Eventbrite Invitation!
Sarah Cobb
Managing Director
BforB Australia
Date/Time:
2018-06-23 08:30:00 - 2018-06-23 15:45:00 (QLD Time)
Venue:
Hilton Surfers Paradise
Ticket Cost:
$Free for BforB Members